Health is something that we take for granted. Because we never fully understand its value until it's gone, it often isn't until we suffer some form of physical or mental breakdown that we realize just how valuable it is. But, sometimes, when we lose something so treasured, something much better is found. For me, when I lost my health, what I gained was a journey into discovering who I really am.
In my youth, I was an avid snowboarder, skateboarder, weightlifter, paint-baller, and rock climber. But, of all the sports I loved, volleyball was my muse. I thought that I would play it forever. I racked up numerous medals in the high school, regional, and varsity circuits. I attended nationals in club volleyball, and snagged a silver and bronze medal in provincial beach volleyball tournaments. I loved it.
With plans of becoming a police officer, I found myself finishing university with dreams of my next steps. A partner, a big house, a fancy car, and then maybe some cute babies – all those picture perfect things we all aim for. I thought that life was in the palm of my hand. Little did I know, sometimes things don't last forever.
It started with annoying muscle cramps, and then progressed to debilitating gastrointestinal, immunological, neurological, and psychiatric symptoms. I plead my case to over 15 specialists and had over 100 vials of blood drawn. After years of searching, I started to wonder if the doctors were right. But then, a neurologist from Hamilton's Neuromuscular Clinic in Canada decided to take a closer look. My intuitions were validated as I was finally diagnosed with a rare disorder called Isaac's syndrome, or immune-mediated neuromytonia.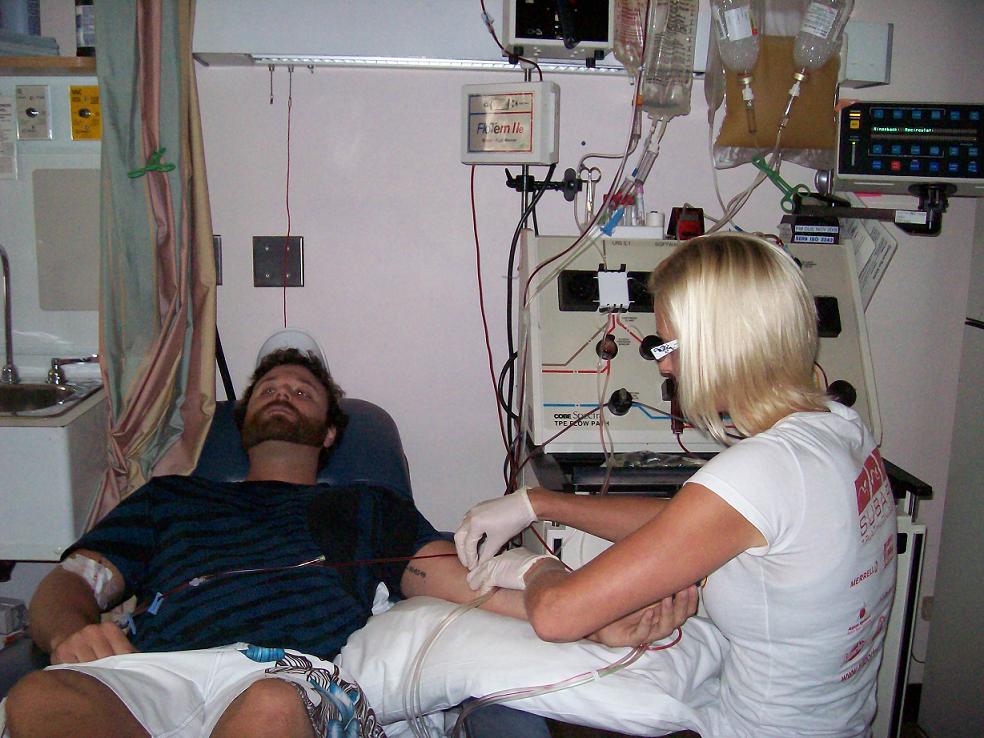 Everything that I had previously envisioned about my life was gone. The volleyball. The fancy car. The policing career. All of it. Because of my health problems, I was pushed to the limit and forced to adapt to new limitations and reinvent the story of my life. Now, I've grown into someone who is completely different than the person I used to be. Before, I was a jock who was insecure no matter how low my percentage of body fat was or how dark my tan was. I was desperate for attention, I was impatient, and I was a know-it-all. Looking back, I knew nothing.
Patience is bitter, but its fruit is sweet.

– Aristotle
Before my diagnosis, things came easily for me. Sports, school and relationships all came effortlessly in my life. Because of this, I naively thought that getting answers to my medical questions would be the same. I thought that they would come quickly. If not, obviously, the first doctor I consulted would set his entire life aside in order to figure them out; that didn't happen.
It took me a long time to adapt to my situation. I learned that when your back is up against the wall, and there is nowhere to run, you learn to work with what you have, even if all you have is patience. Some goals and dreams will come quickly and others may require a tremendous amount of persistence. And, that's ok. There is no race to the finish line. Life's most triumphant moments may take a while to manifest.
Patience became the foundation of my journey. It was the lesson that came first, and gave me the strength and courage to accept the lessons that came next. It allowed me to endure a decade of emotional and physical struggles – rejection, failure, loneliness, and most importantly, symptomatic struggles. I learned that I could become someone that others could rely on. Instead of always receiving help from others, I was finally able to give back. I had the ability to give the greatest gift of all to people around me: my time and energy.
It does not matter how slowly you go as long as you do not stop.

– Confucius
I believe that the learning curve in life is the same as the learning curve in sports. You start slowly, get a little bit of movement, but then fall down, and have to get back up again. At times, it was hard to keep going when everyone told me that I was fine. But, I remained patient and remembered that sometimes the biggest breakthrough will come when we're on the verge of giving up. It's not fair to quit based on what we think will happen. We have to keep searching for answers.
Looking back, I remember the devastation I felt after each negative blood test and each consultation that left questions unanswered. But, now I know that there was always forward movement. One doctor led to the next. One negative test set up another. Even if years went by without tangible improvements, I was still always moving forward. Every step, whether positive or negative, is the result of all your previous steps. Maybe it won't come in a week, a month, or a year, but sooner or later, you will eventually find what you're looking for.
Be kind, for everyone you meet is fighting a harder battle.

– Plato
The more I moved away from the person that I used to be, the farther I ventured into the unknown. I realized that I was becoming more aware of those around me. The more I felt my own darkness and pain, the stronger my compassion for others became. I felt for people in similar situations and understood what it was to be chronically ill without answers. I realized that life wasn't just about me. Everyone has problems. Everyone has battles you know nothing about. Feeling this new sense of compassion, I understood that even the doctors that dismissed me were doing the best that they could. Just like in volleyball, these people became part of my team.
Healing is a matter of time, but it is sometimes also a matter of opportunity.

– Hippocrates
Early in my illness, I was very attached to the reality I had constructed. I was like a child who clutched his toys and cried when they were taken away. When I lost my health, I lost my identity. Letting go is a part of life, and the sooner you're able to, the sooner another part of your journey will begin. The day I realized that I would never be able to play volleyball again was the first time I fully understood the true scale of my loss. I had lost the love of my life.
The changes in my life were involuntary, and made me understand the power of surrender. Being forced into submission, but also still consumed with the need to push for answers. I was no longer under the influence of my egotistical desires. I became more peaceful with my thoughts – more loving and more understanding. Our struggles are really here to guide us somewhere else.
Each step of my journey was full of challenging times, but I realize that I was unknowingly on an expedition of self-awareness and improvement. Although I lost many things along the way – a stable income, athletic talents and the freedom to do what I want – I gained something much more valuable: peace of mind. I became conscious of myself and I feel extremely blessed that I was able to go through something so transformative while having the ability to become someone I truly admire. Regardless of what you're going through, I can confidently say that life has a way of getting us to where we need to be – both spiritually and physically. We just need to believe that it's never the ending; it's always the beginning.
Has anyone else been through a similar medical journey that involved months or years of searching? If so, I'd love to hear from you!
Photo by batabidd