Audible Free Trial
Try Audible free and choose any title from the world's largest audiobook library.
---
I love Audible and have been a member since 2008. Why? Audiobooks have some amazing benefits (more on this below) and with Audible I have access to the world's largest selection of audiobooks and spoken word content. Here I've put together everything you should know on how to try Audible free for 30 days with the Audible free trial. This trial includes choosing one premium title from Audible's entire library for free along with access to the Plus Catalog which has thousands of audiobooks, podcasts, guided wellness programs, and more.
What is the Audible Free Trial?
Audible is an online audiobook service owned by Amazon. Audiobooks and other forms of spoken word content can be purchased individually, or under a subscription model where you receive credits with an Audible membership.
Currently, there is a special offer that will let you try Audible free and get free audiobooks with the Audible free trial:
Click here to try Audible and choose your free book.
This is a risk-free trial as you can easily cancel anytime. You can also exchange any audiobook you don't enjoy helping to ensure you find a perfect listen.
Please note: I only recommend products and services that I personally use. As you can see in the below screenshot, I have been a member of Audible since 2008: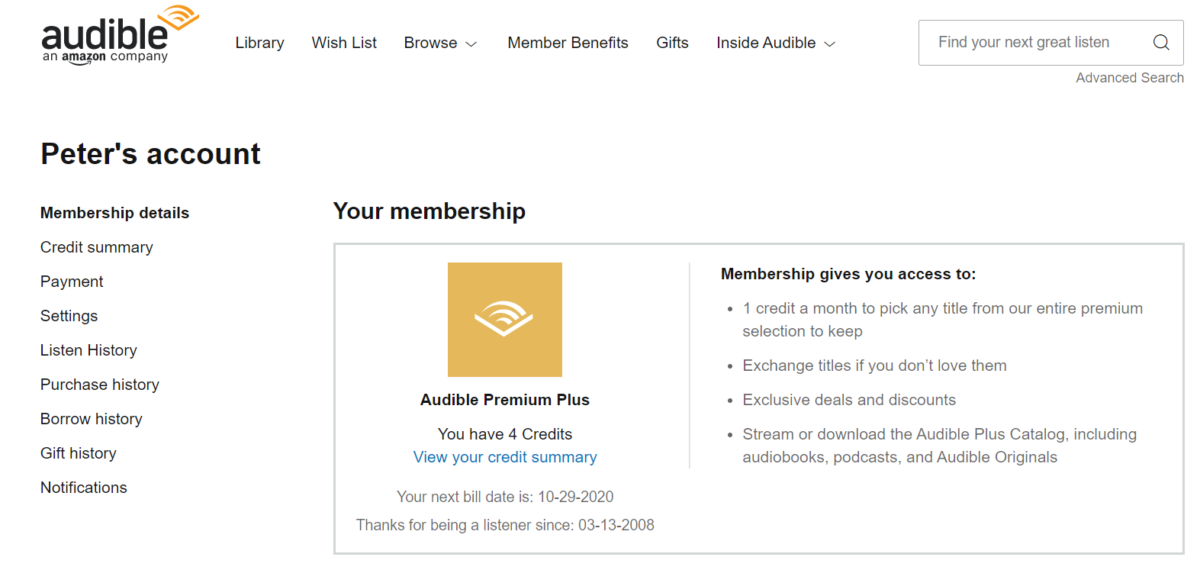 Why I Love Audiobooks
In 2007 I was spending over 2 hours each day commuting to and from work. At first, I hated spending so much time commuting as I considered this "dead time". In 2008 I discovered audiobooks and suddenly my daily commute became my "learning time". I began to enjoy – even look forward to – this time each day.
There are a number of other benefits I have experienced from listening to audiobooks. I now "read" far more than I used to. I also find that I retain more information from listening to books (I guess you could say I'm an auditory learner). And after spending much of the day looking at my computer screen, I enjoy resting my eyes in the evening.
Why I Love Audible
Here are some the reasons I'm such a huge fan of Audible:
1. Massive collection. No other site even comes close to offering the 400,000+ titles Audible does. Whatever your passion, your interests, or favorite authors, there's a perfect listen for you.
2. Awesome community. Helpful reviews and ratings from Audible listeners make it easy it find the perfect audiobook.
3. A great listen guaranteed. You can exchange any book you didn't like with their Great Listen Guarantee.
4. Super convenient. Audible has a free app for iOS and Android devices.
5. Member discounts. Audible regularly offers member-only sales and discounts.
6. Cancel anytime. You can cancel online and at any time.
How to Try Audible Free
The process for signing up for the Audible free trial is really simple:
1. Join. Sign in with your Amazon.com account or create a new one.
2. Discover. Choose from 400,000+ titles using helpful reviews from Audible listeners.
3. Listen. Download the free Audible app for your iOS or Android device.
4. Enjoy. Exchange any book you didn't like, no questions asked.
Click here to access the Audible Free Trial.
How the Audible Free Trial Works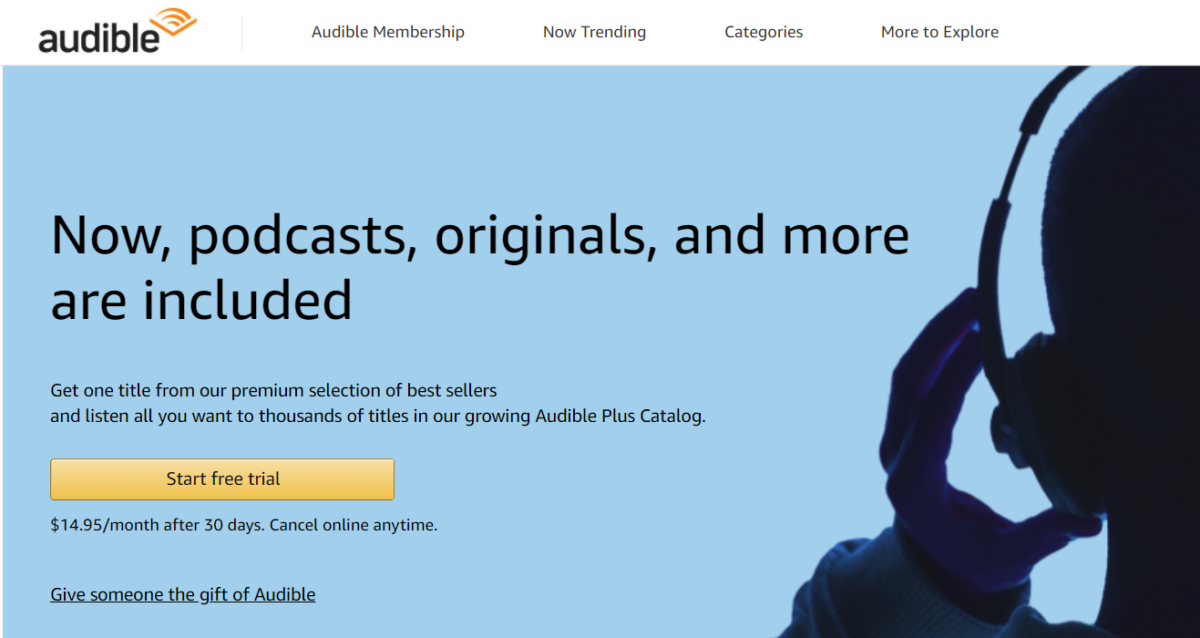 How does the Audible free trial work? Well, once you've started your Audible free trial, membership is free for 30 days.
If you enjoy your Audible trial, do nothing and your membership will automatically continue. Audible will even send you an email reminder before your trial ends, that way you won't have any unexpected charges.
You can cancel Audible online anytime before your trial ends and you won't be charged.
How Audible Premium Plus Works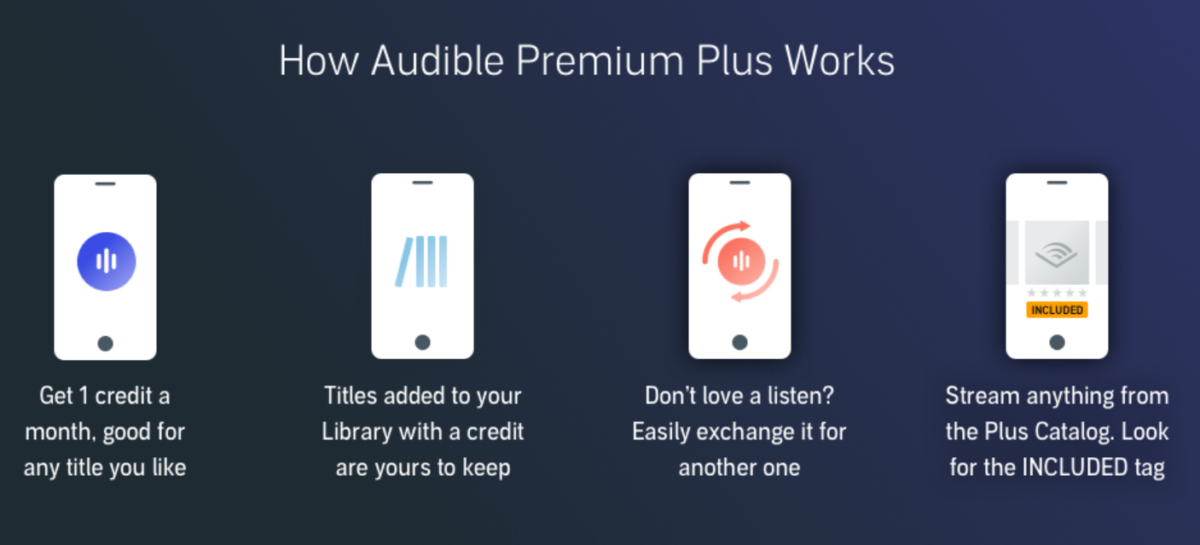 Audible Premium Plus includes access to thousands of audio titles in the Audible Plus catalog with the added bonus of 1 credit per month to be used to redeem any title from Audible's Premium selections. These titles are yours to keep forever!
Premium Plus also unlocks a 30% discount for any additional content you purchase from the Premium catalog.
Sounds good? You can start your Audible free trial by clicking the following link:
Click here to start the Audible Premium Plus free trial.