When we are no longer able to change a situation – we are challenged to change ourselves.

– Viktor Frankl
For the last seven years I have devoted all of my time and energy to reclaiming my health after totally losing it to Lyme Disease: a systemic bacterial infection contracted from the bite of a poppy-seed sized tick.
Seven years ago I was a workaholic PhD student, who spent all of her time at the gym, training for the Chicago marathon. I ate cake for dinner or whole French baguettes slathered with peanut butter and butter (yes…a double butter whammy), and I drank copious cups of coffee. I loved my sugary, frantic, social butterfly existence. I had absolutely nothing to worry about. My life was galloping along, and I was embracing every minute of it.
And then, like a buff of smoke, my health disappeared. And, my entire life changed.
I lost my health rather instantly, and in dramatic fashion. I could barely walk or stay awake; my body burned with pain. I was shuttled from one baffled doctor to the next. Only to be told that there was nothing wrong with me.
I lost the ability to work and to see my friends and family — my life totally shrunk. I was left without a diagnosis for five years. I was also left with the cold, hard fact that I was on my own. So, like the consummate student I was, I dove deep into research, and I read about the power of food to heal the body.
I learned that in order to get out of the mess I was in, I had to take drastic action. No one else was going to save me; I had to save myself.
If you lost your health, completely, what would you do?
One of the most powerful and transformative practices I started was juicing. Juicing is an amazing way to saturate the cells with body rockin' nutrients — nutrients that help the body to heal.
I constantly meet people, who like me, have lost their health or are struggling to gather enough energy to get through their day. And, to both of these lovely souls I say, "you need to start juicing".
But to some, juicing can seem abstract. Where do you start? What type of juicer do you buy? How on earth do you make a juice that doesn't taste like Satan in a glass?
Well…I've created a little How to Start Juicing infographic to dispel the mystic.
How to Start Juicing
This infographic illustrates the four different types of juicers available on the market; it also shows you a 4-step strategy to make a beautiful tasting juice.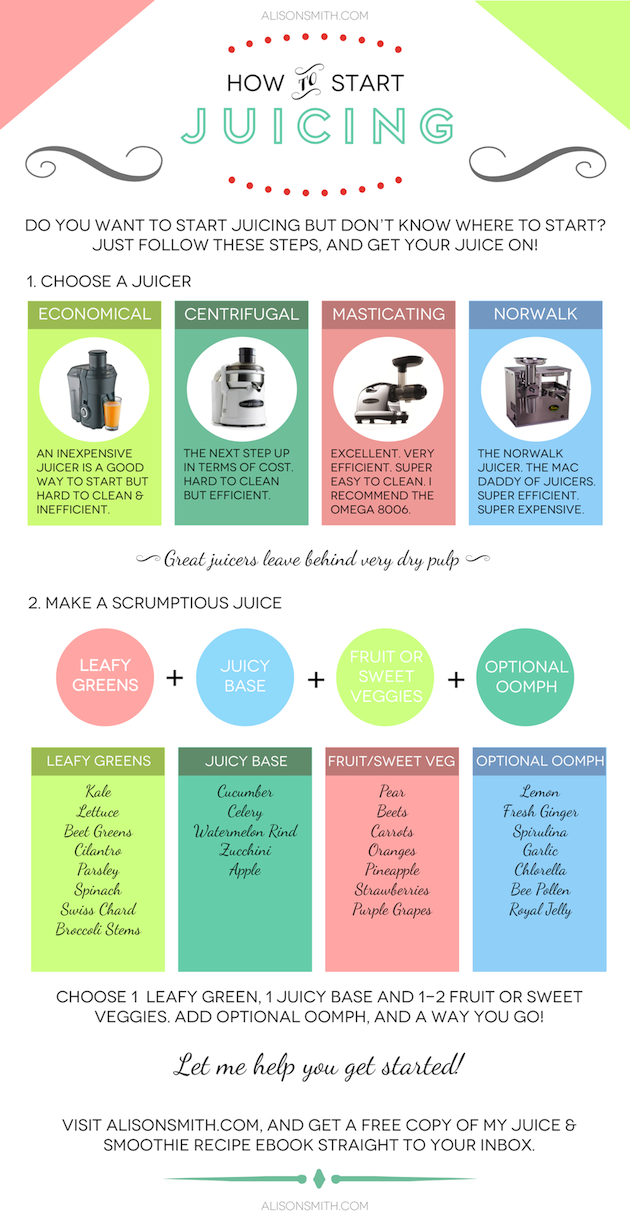 The infographic eliminates all of the guess work, which ultimately fuels inaction. And, let's be honest, when you want to dramatically change the way you feel, you need to take dramatic action.
I'm happy the report that I did finally get the medical help that I needed, and I'm almost fully recovered. But I strongly believe that my recovery would not have been possible if I didn't change my approach to the food that I eat and the life that I live.
I'm pretty proud to say that I no longer eat cake for dinner, and I now live each day empowered with the knowledge that I have the strength and the know-how to reclaim my health and my life.
I fully agree with what Mastin Kipp of The Daily Love says: My life and how I respond to it is 100% my responsibility.
If you would like to start juicing but you just don't know how to begin, print off a copy of the infographic, and check out the three juice recipes, below. Let's get our juice on! Your body will love you for it!
3 Delicious Juicing Recipes