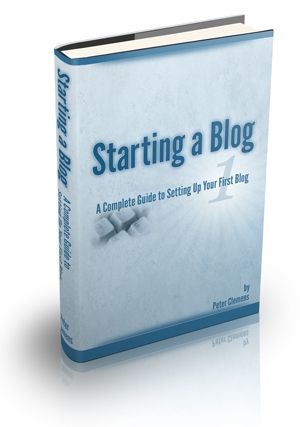 Blogging is becoming more and more popular every day. Why is this? I think it's because blogging is an activity that anyone can benefit from. Here are just a few reasons why people start blogs:
To express their thoughts or opinions
To help people
To establish themselves as an expert
To stay connected with friends and family
To market or promote something
To make money
To have fun and be creative
Would you like to start a blog? If the answer is "yes", you've come to the right place.
Starting a blog can seem daunting, but the process is actually quite easy and anyone with basic computer knowledge can set one up. Yes, this includes you!
I've written a free guide called Starting a Blog to help people set up their first blog the right way . By following the guide you can expect to have a blog up and running in under an hour. This includes buying a domain, ordering hosting and installing WordPress. No idea what these mean? No problem: it will all make sense soon. The guide includes pictures to help you through the process. Plus, if at any point in the guide you get stuck you are welcome to get in touch with me via my contact page.
Sound good? Click the below link to open Starting a Blog in your browser window. If you wish to save the guide to your computer instead, right click on the button and select "Save link as…".
[button link="https://s3.amazonaws.com/thebloggingblog/The+Blogging+Blog/startingablog.pdf" style="download" bg_color="#5FAA42″]Download Starting a Blog[/button]
[divider_flat]
[fblike style="button_count" width="95″ float="left"] [twitter style="horizontal" float="left"]