We first make our habits, and then our habits make us.

– John Dryden
How we spend our days is, of course, how we spend our lives. Every day is a small piece of a larger picture, a step in the journey of our lives. Our daily habits, the consistent actions we take day in and day out, play a monumental role in determining the quality of our lives. Whether it's our morning routines, our workday practices, or our evening wind-down rituals, these things to do every day shape our physical and mental health, productivity, and overall well-being.
In this blog post, I will delve into the transformative power of 24 specific daily habits. This list is organized into morning habits to kickstart your day, routines to follow throughout the day for sustained energy and focus, and evening habits to ensure a restful night and prepare for the day ahead. So, let's start reshaping your daily routine, one habit at a time.
The Science of Daily Habits
Our daily habits are more than just repetitive actions; they are wired into our brains, forming a key part of our neural architecture. Understanding how habits work can provide us with the necessary insight to cultivate positive habits and abandon harmful ones.
Habits form through a process called 'habit loop', a concept introduced by Charles Duhigg in his book The Power of Habit. The loop consists of three parts: a cue, a routine, and a reward. The cue triggers the routine, and the reward reinforces the habit, making our brain go back to the same loop next time.
For instance, consider the daily habit of brushing your teeth in the morning. The cue might be the taste of coffee or breakfast, the routine is the act of brushing, and the reward is the fresh feeling in your mouth afterward. Over time, this sequence becomes automatic, and the habit is formed.
But why are habits so crucial for us? Well, they have a profound impact on our mental and physical health. Good habits like regular exercise, healthy eating, and getting adequate sleep can significantly improve our physical health, reducing the risk of various diseases. They also positively affect our mental health by reducing stress, improving mood, and enhancing cognitive function.
On the other hand, bad habits such as overeating, excessive screen time, or chronic procrastination can take a toll on both our mental and physical well-being. Understanding the science of habit formation allows us to harness its power, helping us replace harmful habits with beneficial ones and thereby improve the quality of our lives.
Daily Habits for a Productive and Healthy Life
The power of habit lies in repetition. By intentionally shaping our daily habits, we can harness this power to lead a more productive, healthier, and fulfilled life. So, let's dive into the list of 24 daily habits broken down into morning, daytime, and evening routines.
Morning Routine Habits
1. Wake up early: Waking up early isn't about punishing yourself, it's about empowering yourself. The goal is to create a meaningful morning routine that sets a positive tone for the rest of your day.
2. Exercise: Regular morning workouts can boost your energy, enhance your mood, and improve physical health. Even a brisk walk, light stretching, or yoga can do wonders for your well-being.
3. Eat a Healthy Breakfast: Fuel your body with a nutritious breakfast to provide you with sustained energy and prevent overeating later in the day. Include proteins, whole grains, and fruits in your meal for balanced nutrition.
4. Practice Meditation: Spend a few minutes each morning in mindful meditation. It helps in reducing stress, improving focus, and promoting emotional health.
5. Set Daily Goals: Take a moment to set your intentions for the day. This habit can help you stay focused, productive, and motivated throughout the day.
6. Learn Something New: Spend a part of your morning learning something new, whether from a book, podcast, or news article. This habit encourages lifelong learning and mental stimulation.
7. Write in a Journal: Capture your thoughts, dreams, and plans in writing. It helps to clear your mind and focus on what's important.
8. Do a Puzzle or Brain Game: Stimulate your brain and keep it sharp by doing a puzzle or brain game in the morning.
Good Habits Throughout the Day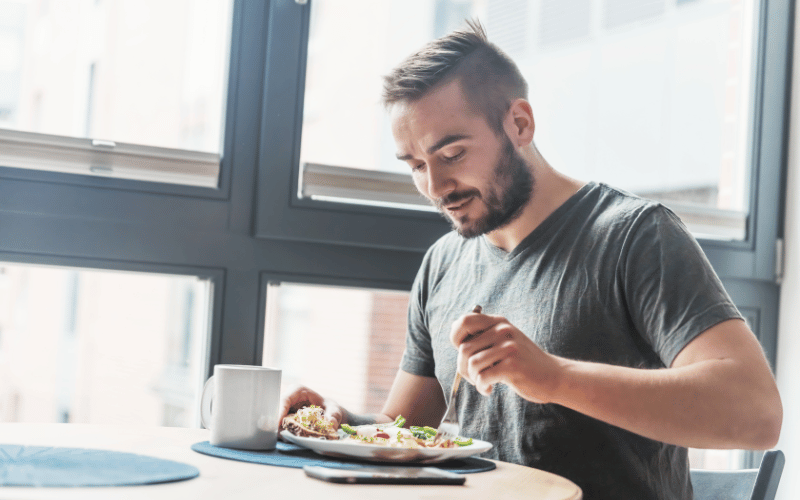 9. Eat Mindfully: Pay attention to what and how you eat. Eating mindfully helps in better digestion and increases the enjoyment of food.
10. Prioritize Important Tasks: Segregate your tasks into urgent, important, not urgent, and not important, and 'put first things first' by focusing on your most important priorities.
11. Listen to Music: Music can uplift your spirits, stimulate your brain, and even help you focus better.
12. Take Regular Breaks: Periodic breaks during work can improve productivity, prevent burnout, and enhance mental well-being.
13. Practice Positive Self-talk: Speak kindly to yourself. Positive self-talk can improve your outlook and combat stress.
14. Connect With Nature: Find time to step outside and enjoy the fresh air and greenery, even if it's just for a few minutes.
15. Perform Random Acts of Kindness: Make it a habit to do something kind for someone else, no matter how small, each day.
16. Smile: Even when it feels forced, smiling can improve your mood and help build positive relationships.
Evening Routine Habits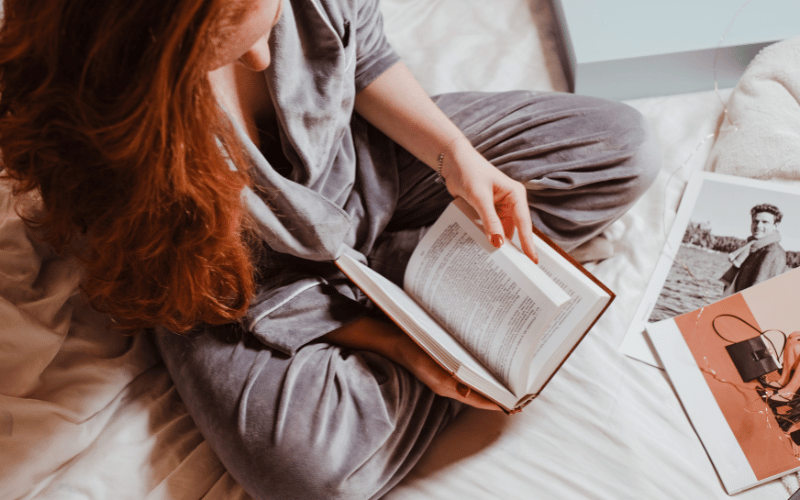 17. Engage in Relaxing Activities: Read a book, listen to calming music, or take a warm bath to unwind before bed.
18. Spend Quality Time With Loved Ones: Dedicate some time each evening to connect with your family or friends. It can be as simple as having a meal together or discussing the day.
19. Practice Gratitude: Before going to bed, write down three things you're grateful for. It fosters positivity and helps you appreciate your life's blessings.
20. Clean and Organize Your Space: Keeping your environment clean and organized can reduce stress and increase productivity.
21. Read for Pleasure: Reading for leisure stimulates the brain, reduces stress, and promotes better sleep.
22. Practice Evening Yoga or Stretching: Light yoga or stretching can reduce stress, improve flexibility, and promote better sleep.
23. Have a Digital Detox: Switch off your digital devices at least an hour before bed. This habit aids in better sleep quality.
24. Ensure a Good Night's Sleep: Prioritize quality sleep. A good sleep cycle aids in recovery, improves memory, and enhances overall health. It also will help you with the first habit on this list, waking up early.
How to Implement Good Habits Into Your Daily Routine
Now that we have our list of 24 transformative things to do daily, the real challenge begins – implementation. The process of building new habits and sticking to them requires patience, perseverance, and a touch of strategy. Here are some practical tips to help you successfully incorporate these habits into your routine.
1. Start Small: While it's tempting to adopt all these habits at once, it's more effective to start small. Choose one or two habits to focus on first, then gradually incorporate others as those habits solidify.
2. Be Consistent: Consistency is key in habit formation. Even if you miss a day, make sure to get back on track as soon as possible. It's the cumulative effect of doing something day in and day out that brings about real change.
3. Use Habit Stacking: This strategy involves linking a new habit to an already established one. For example, if you already have a habit of having a cup of tea in the morning, use this as a cue to start a meditation practice right afterward.
4. Find Your Why: Knowing why you're adopting a habit can provide motivation when your willpower wanes. If the reason is compelling enough, you'll be more likely to stick with it.
5. Monitor Your Progress: Keep track of your progress, perhaps by maintaining a habit tracker or journal. Monitoring helps you understand your patterns, celebrate your success, and provide motivation to keep going.
6. Be Patient: Remember, it takes time to form a new habit. Don't be disheartened if you don't see immediate results. Keep at it, and over time, you'll start noticing the benefits.
7. Adjust as Needed: If a habit isn't working for you, don't be afraid to adjust it. Our routines need to adapt to our evolving lives, and that's completely okay.
Implementing these habits will not only increase your productivity and improve your health but also elevate your overall quality of life. Remember, it's not about perfection; it's about making consistent, small changes toward a better you.
Conclusion
Every journey begins with a single step, and the journey toward a healthier, more productive, and fulfilled life is no different. These daily habits are designed to help you make that first step and then keep going.
Remember, the power of these daily habits doesn't come from a single act; it's the compounding effect of doing them consistently that leads to transformative results. Whether it's starting your day with a healthy breakfast, prioritizing tasks, practicing gratitude, or ensuring a good night's sleep, each habit contributes significantly to improving your lifestyle.
Incorporating new habits into your daily routine might seem daunting at first, but remember to be patient with yourself. Start small, stay consistent, and make adjustments as necessary. It's about progress, not perfection.
Take this moment to reflect on these things to do every day and consider which ones resonate with you most. Start incorporating them into your routine, and watch how they uplift your life. Don't underestimate the transformative power of daily habits. They can, quite literally, reshape your life.
Frequently Asked Questions (FAQs)